Grow Your Own Food – Year 2
Grow your own food – Year 2 was an over all success. Did everything come out the way we planned. Well, no. Even some of the pictures on this page didn't turn out the way I hoped. But, overall pretty successful.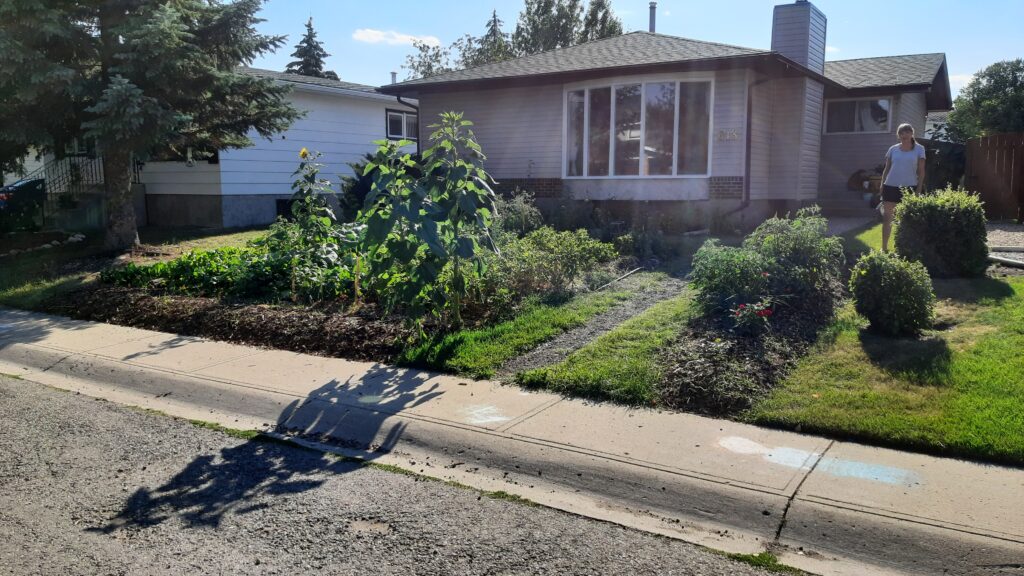 We had only compliments from the passing neighbours. Lots of comments about how great an idea it is. I think at this point, with the grocery costs going up, even the nay-sayers in June are rethinking their views on growing your own food now.
On the budget of, "I don't want to spend any money. But, I know I have to spend some, so we are going to minimize how much we spend, in dollars and cents in general." Total input costs for 2022 were under $300, though I have to tally the costs to be sure. 2023 plans will be a bit more expensive as we are ready for the new deck, walkways and greenhouse.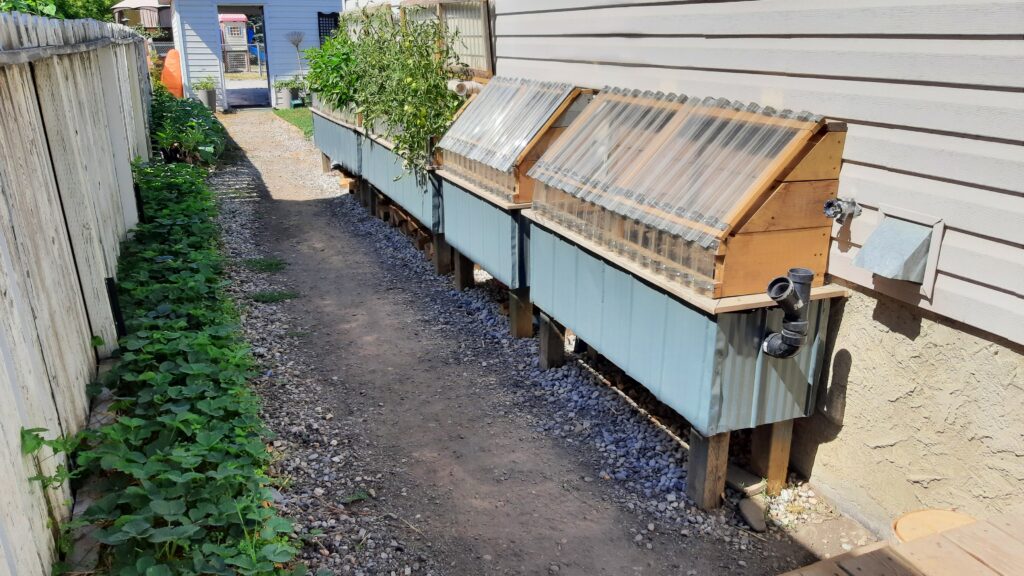 2022 was all about getting gardens finally installed, getting pathways cut out and prepped for hardscaping aspects, and getting the rainwater collection started. Most of the plants we are using are still annuals and vegetables.
There are key perennial plants that I want to have on the property, so I am taking a couple of years to find the best spot to place them. Then prepping the soil with annual plants and ground cover until I come across the perennial plant I am looking for. Once the gardens are planted and seeded in the Spring, that is it for the season. So we do most of the rearranging of things in the early spring and late fall. After the harvest.
The Front Gardens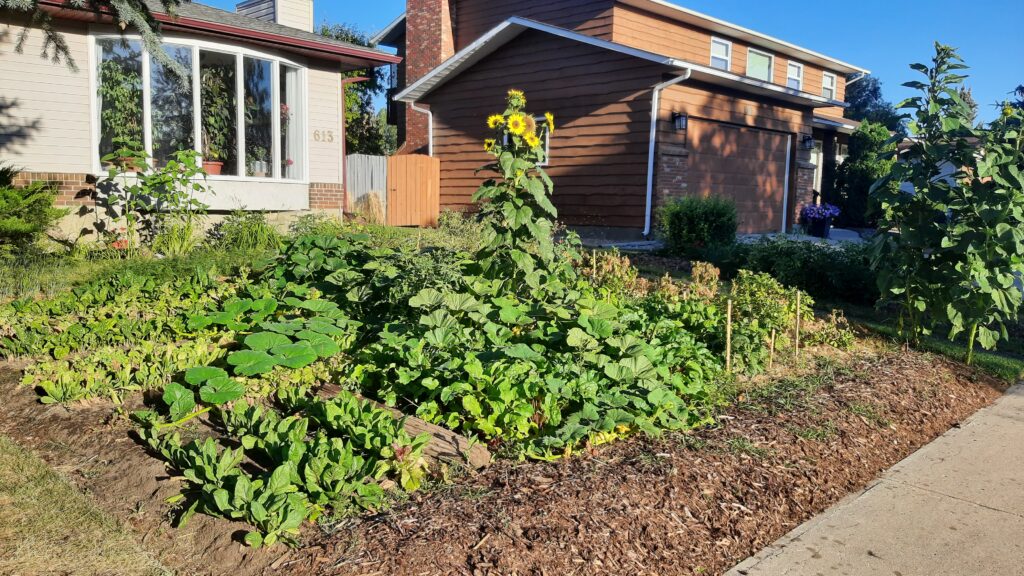 The front "lawn" is divided into 3 gardens right now. There will be 2 more, once the front deck is installed and the Spruce tree is gone, but for now there is 3.
The Garden "closest to the house" is a perennial bed, as is the "property line" garden to the North. I will plant annuals and vegetables in with them, but the main purpose of those gardens are for pollinators and perennial edible plants. The Property line garden adds the benefit of a wind break as well.
Those gardens were mulched with wood mulch. There are Roses and Chives in the property line garden. As the perennial plants. This year we also planted tomatoes and garlic in with them as annuals. The "garden closest to the house" has Irises, Tulips, Lilies, Bleeding Hearts, Blueberries, Hens and Chicks, Daisy, Lamium, Yarrow, Peony, and Juniper as perennials so far. Then we planted Tomatoes, Marigolds, Arugula, Spinach, Swiss Chard, and (the birds planted) Sunflowers. Though I feel like I'm forgetting something.
We'll have to wait till Spring I guess. It's covered in snow right now.
The "big garden in the front" started out as a vegetable garden only. But, we planted an Apple tree that my daughter planted the seed and it sprouted. Then I added some Pink and White Yarrow around it, to start a mini guild garden around the Apple. It was going to be a wildflower patch anyway, so those floers are coming up too.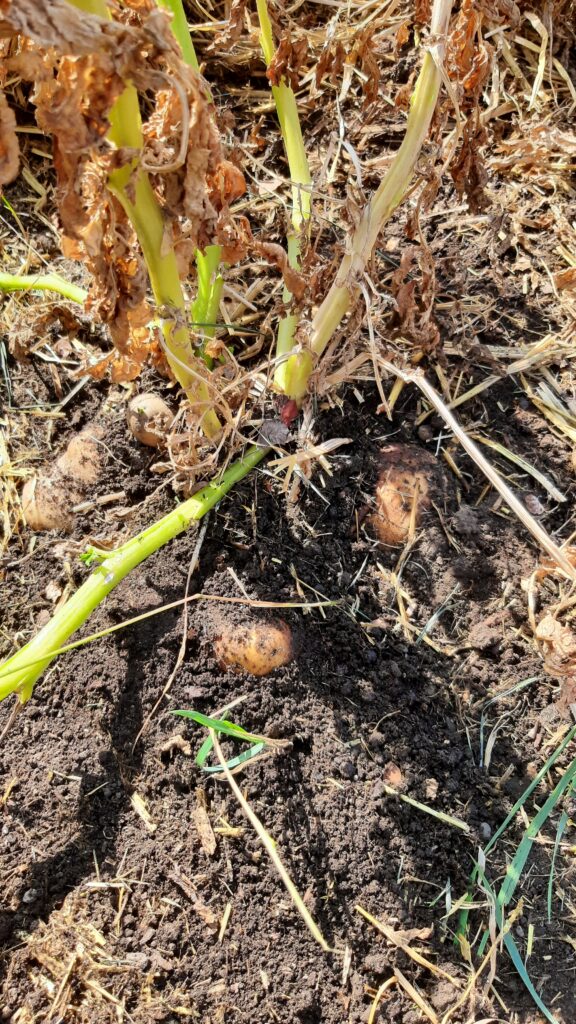 We seeded Potatoes, Tri-Coloured Beans, Giant Pumpkins, Zucchini, Carrots, Onions, Radishes, 3 kinds of Beets, 3 kinds of Lettuce, Swiss Chard, Radicchio, Dill, and Tomatoes. And, of course, the birds added some more Sunflowers as well. Oh, and I am on attempt # 3 to grow Saskatoons. Fingers crossed for this one.
The Back Garden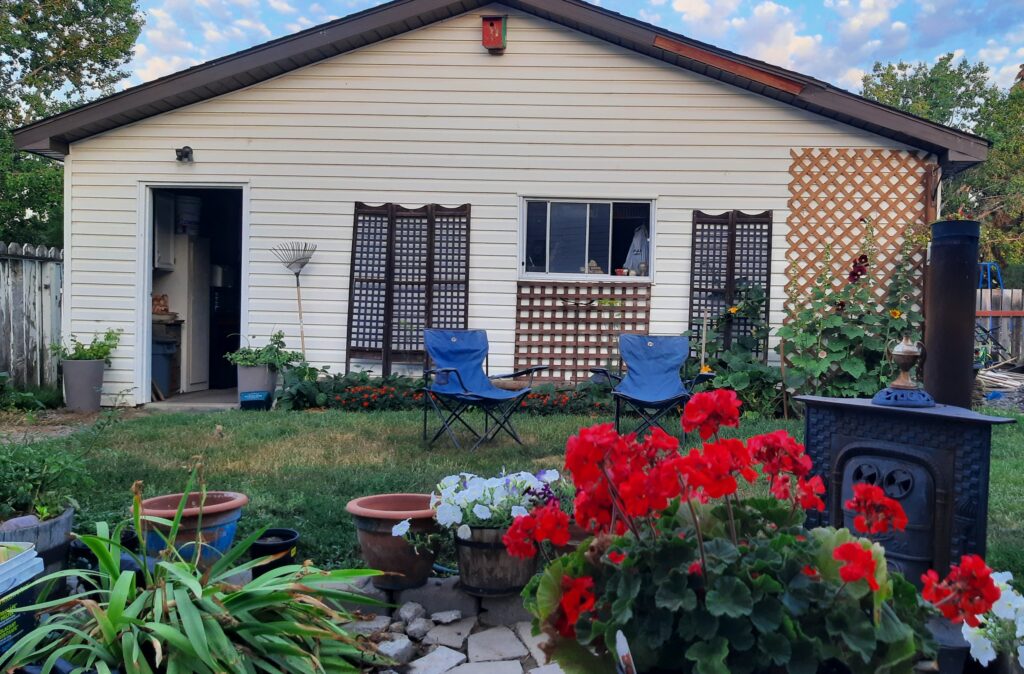 The back garden is my sanctuary from the world. At least it will be when I am finished. Right now it consists of 9 in ground garden beds and 4 raised wicking beds. All of various sizes. The lawn area, deck area, a parking pad I use for storage until the greenhouse gets built area, and a chicken coop area.
I lucked into some Strawberry and Raspberry plants this spring. Enough to plant the respective patches along the South fence. I planted Turnips with the Raspberries for this year. The Turnips failed, but whatever. The Raspberries are loving life, and they are the perennial crop.
The wicking beds had Peppers, Tomatoes and Onion, Kale, and Spinach planted respectively.
In the ground gardens by the garage were/are 2 varieties of Basil, Tri-Coloured Beans, Spaghetti Squash, Hollyhocks and Peas. I added 2 Hops plants later in the season. I hope they survive the winter.
By the north fence I planted more Peppers, Corn, Cucumbers and Carrots. Then later this season I added a Heliopsis, Willow and a Yarrow plant as perennials. There is a wild Rose growing up there on its own as well. I may transplant it next year, we'll see.
By the house we planted Tomatoes, Chives, Onion, Comfrey, and Peas.
Grow Your Own Food – Year 2 – The Harvest
Potato Harvest
We planted 24 "chits" of Potatoes. Covered them with straw, and left them. I got busy and so I never got back to "hill them up". We easily pulled 50 lbs. of Potatoes. Some of them better than others, some bigger than others, but we ate every one of them, or will. I am saving the last of them for Christmas dinner.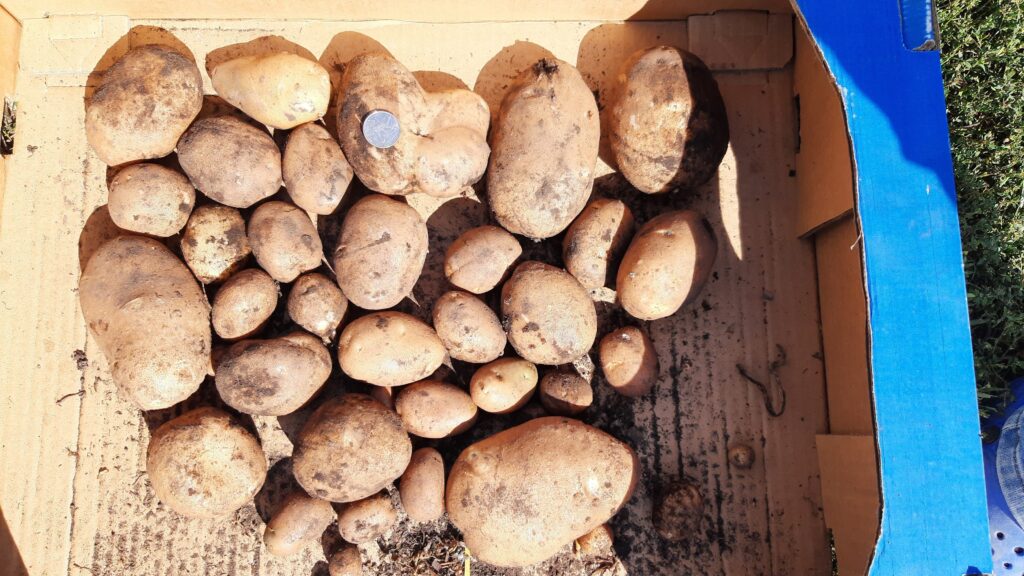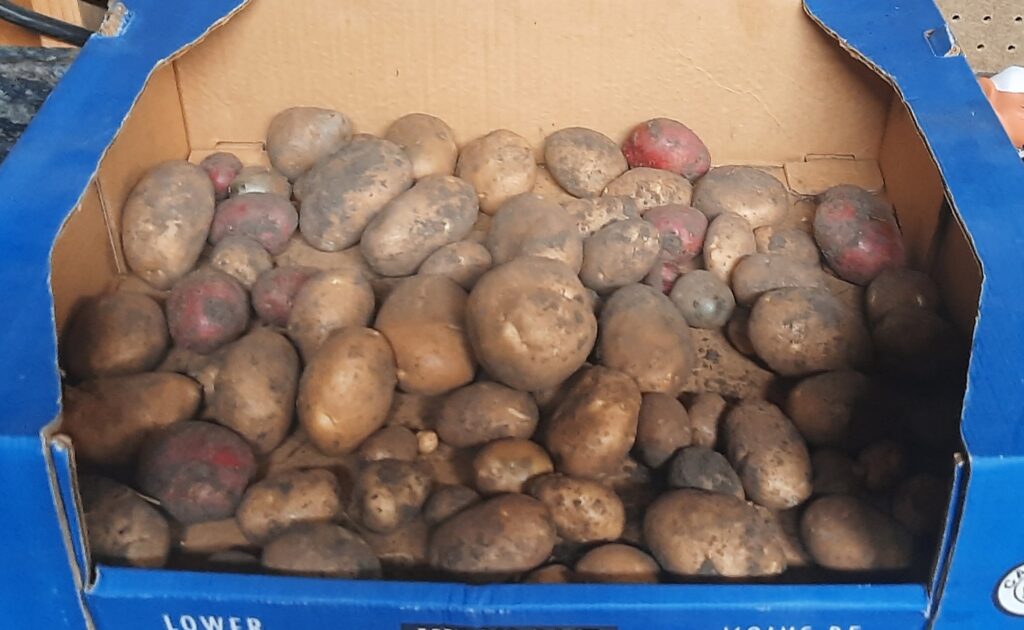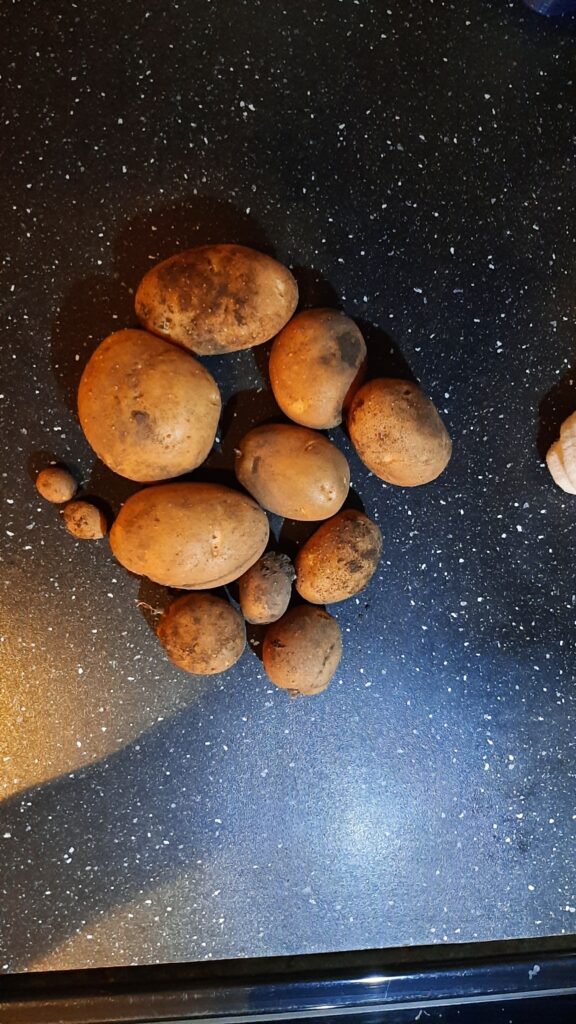 The best Potatoes are from your own garden.
The Beet Harvest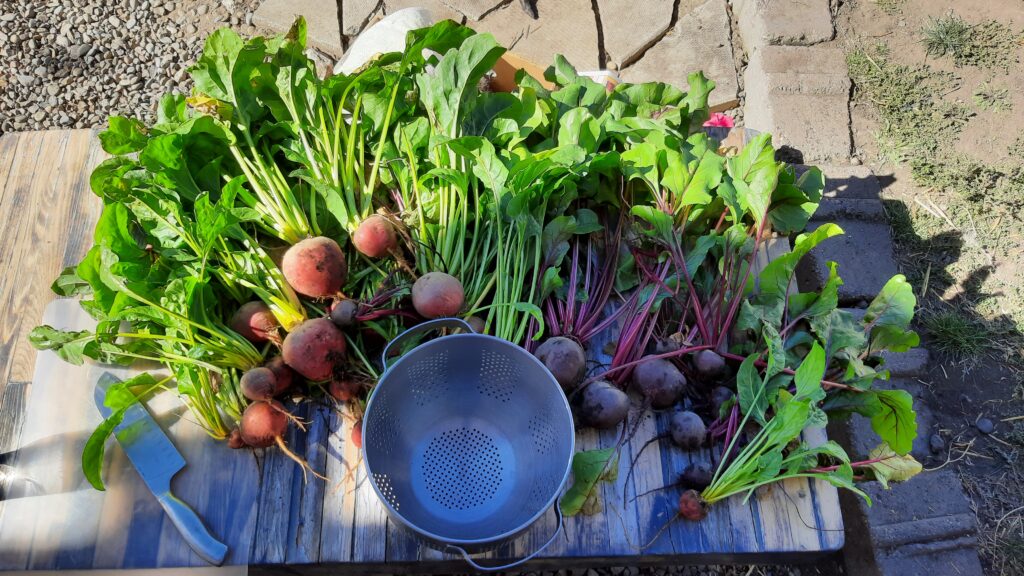 We planted 3 different varieties of Beets. In 5 – 5 foot rows. Because we like Beets and Beet greens all Summer. Then I boiled some up (which is what's happening here). Again we have some for Christmas and beyond.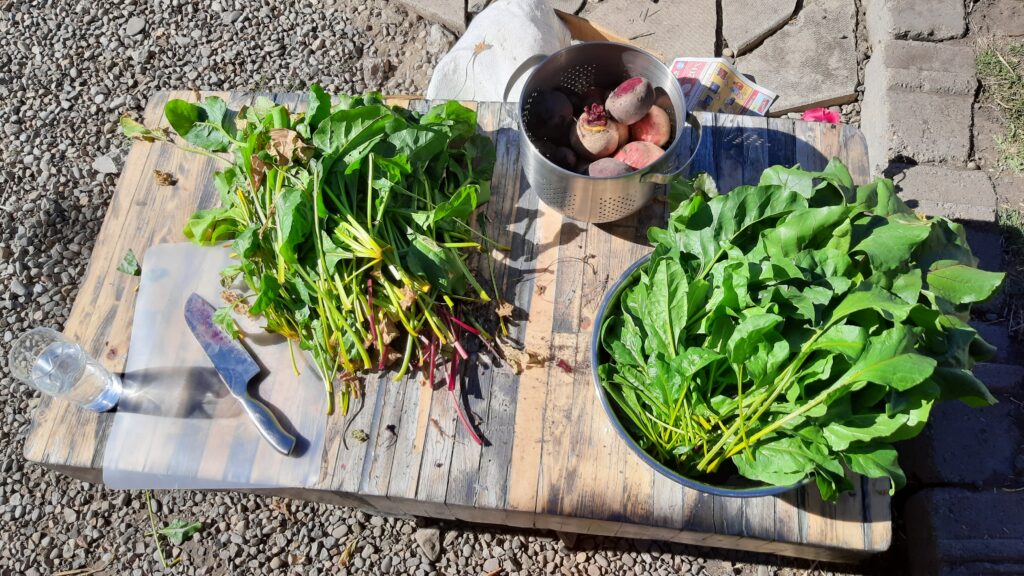 I love steamed Beet greens. That's a Summer supper to me. But, once you ate yourself sick of fresh (though steamed) ones, they can be frozen and used in smoothies and other cooking.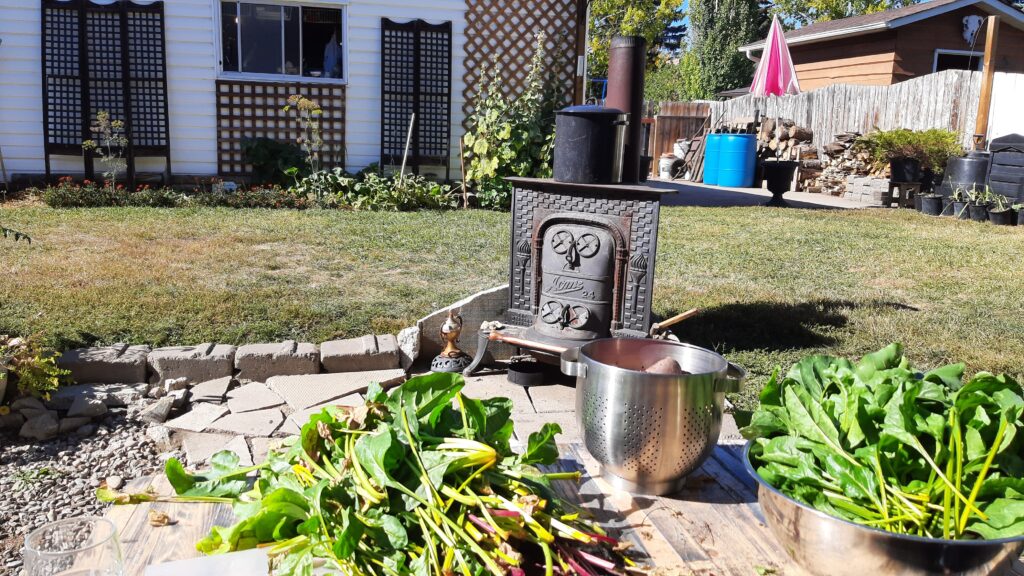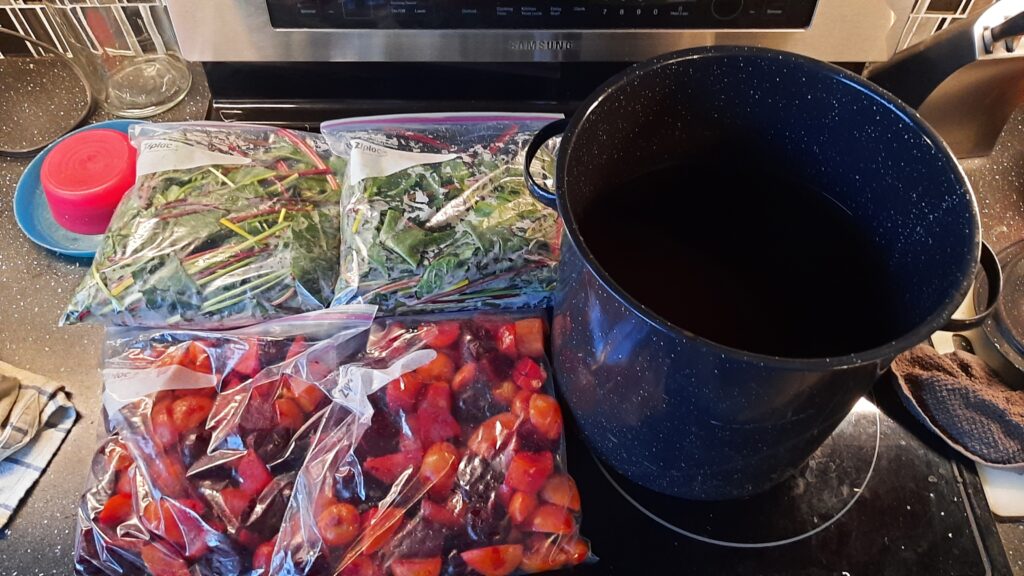 I was only thinning the rows when I decided to try boiling and freezing them.
This is just from thinning the crop!
The Corn Harvest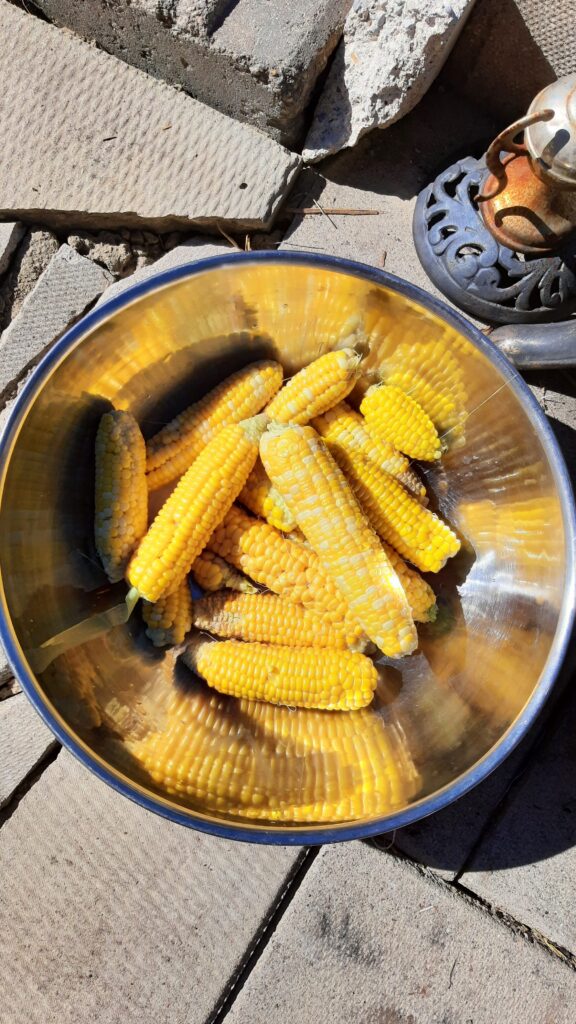 I'm still learning about growing Corn. So it seems anyway. Last year we got nothing from the Glass Gem Corn. This year we would have had a better harvest, but I left them on the plant to long. Next year.
Peppers!!!!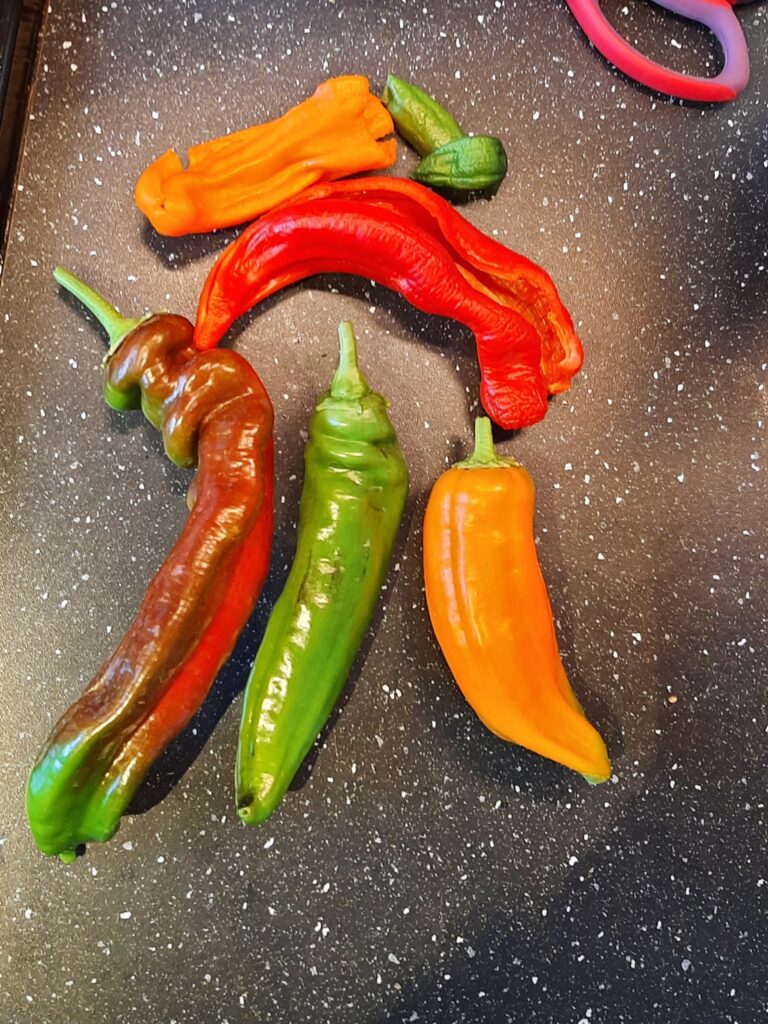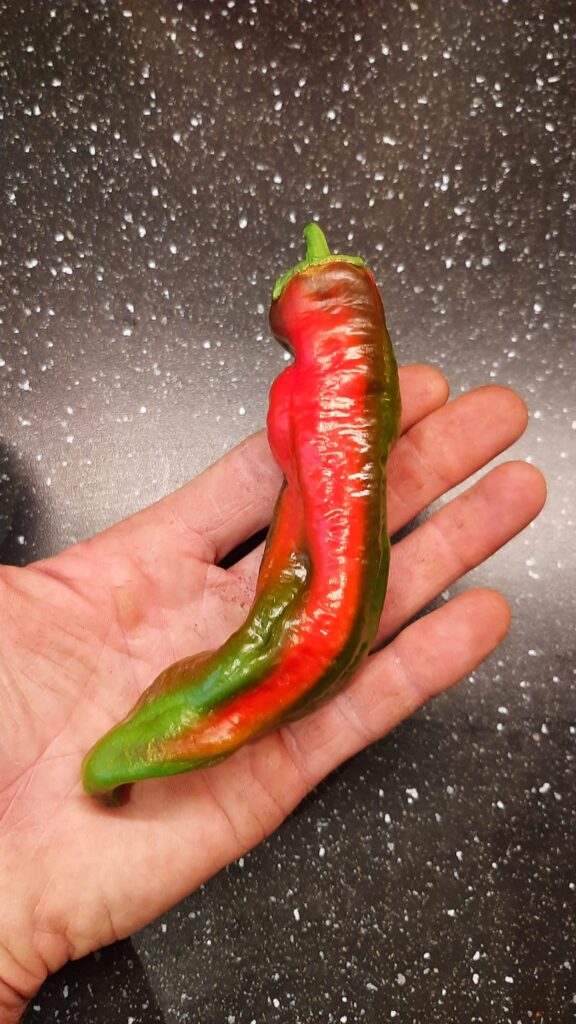 Oh my the Peppers!!
I saved these seeds from a pepper that was given to us to eat from a neighbour friend. Then, on a lark, I planted all of them. I mean 200 seeds, and they ALL SPROUTED!! I had pepper plants like crazy. I'm not even sure what variety of pepper they are. They are tasty, grow about 10″ long, and are the funkiest peppers I have ever seen.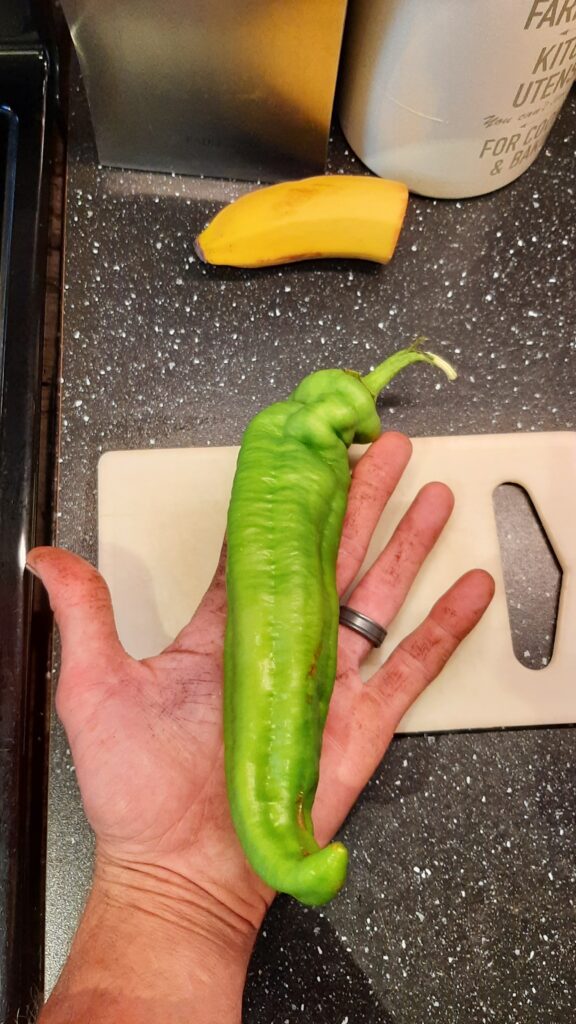 We eat a lot of peppers in this house and these plants just produced and produced. I will definitely do this again. I had no idea peppers were that easy to grow here.
The Carrot Harvest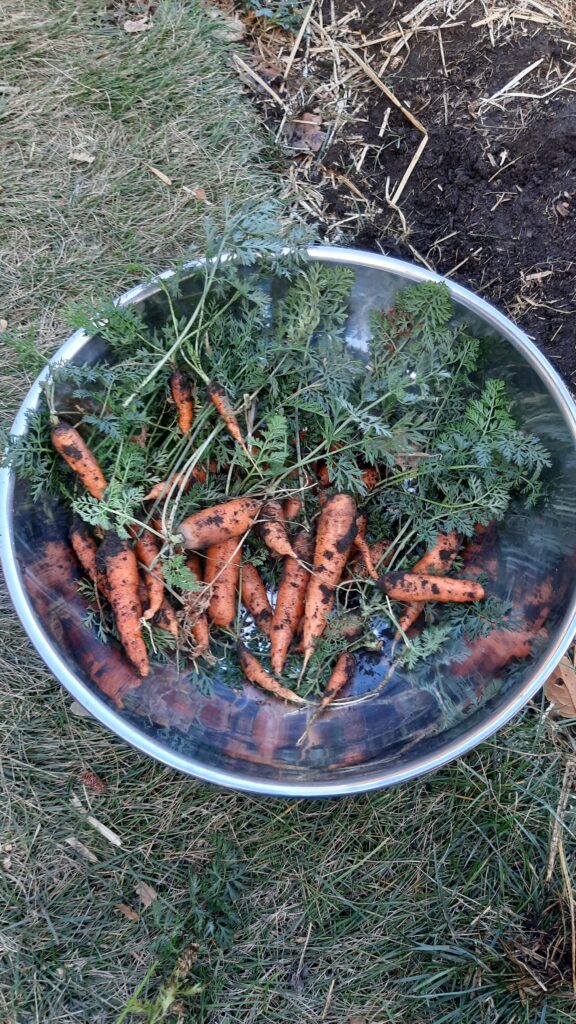 I have no idea how many carrots were pulled when I wasn't looking. They are a favorite right from the ground so they get eaten randomly. We definitely had a good crop with a constant supply all Summer. And yes, some left for Christmas dinner. Though they may have to be frozen.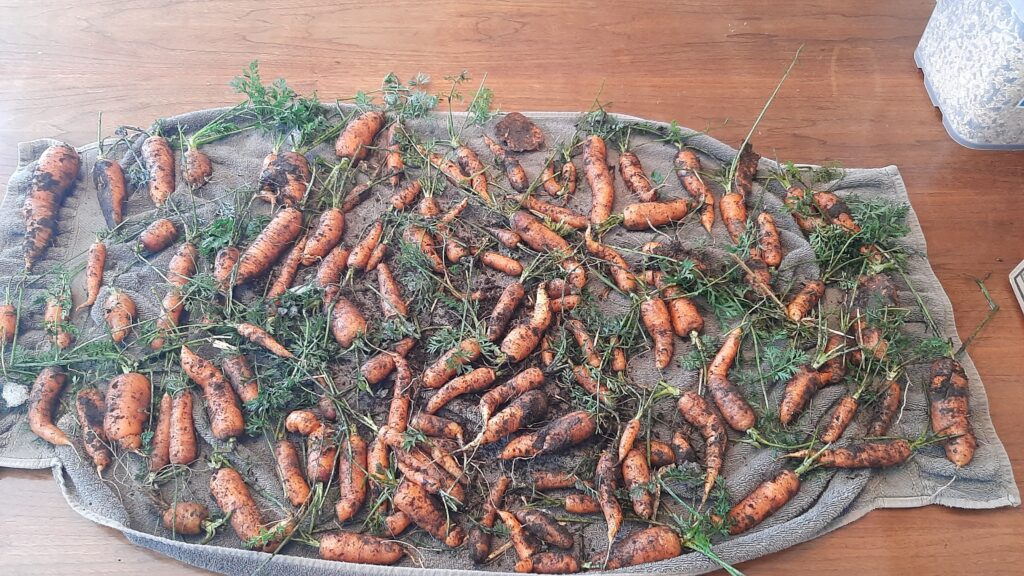 I left some in the ground to test the theory. It snowed about 8″, and then the temp dropped to -30C for about a week. Once it warmed up I harvested the Carrots in the above picture after clearing the snow. They are great. I heard you just have to get them out before the ground freezes, which I did.
Grow Your Own Food – Year 2 – Other Stuff
So all together, for the Summer of 2022 we have grown:
Tomatoes (3 varieties), Chives, Spinach, Kale, Swiss Chard, Potatoes, Beans (3 varieties), Zucchini, Pumpkins, Lettuce (3 varieties), Radicchio, Beets (3 varieties), Strawberries, Peppers, Peas, Squash, Corn, Carrots, Cucumber, Dill, Basil (2 varieties), Parsley, Onions (2 varieties).
Plants We Ate
Plants We Planted And Will Eat From
Blueberries, Raspberries, Saskatoons, Hops, Apple, Chamomile, Yarrow (2 varieties), Juniper.
Plants We Planted For Other Reasons
Roses (3 varieties), Bleeding Heart, Daisy, Peony, Hens & Chicks, Lamium, Irises, Lilies, Tulips, Crocus, Poppies (2 varieties), Sunflowers, (4 varieties), Hollyhocks, Comfrey, Heliopsis, Willow, Wheat, Periwinkle, Dusty Miller.
We also have a bunch of annual flowers as well, Geraniums and the like, but that's a little off topic.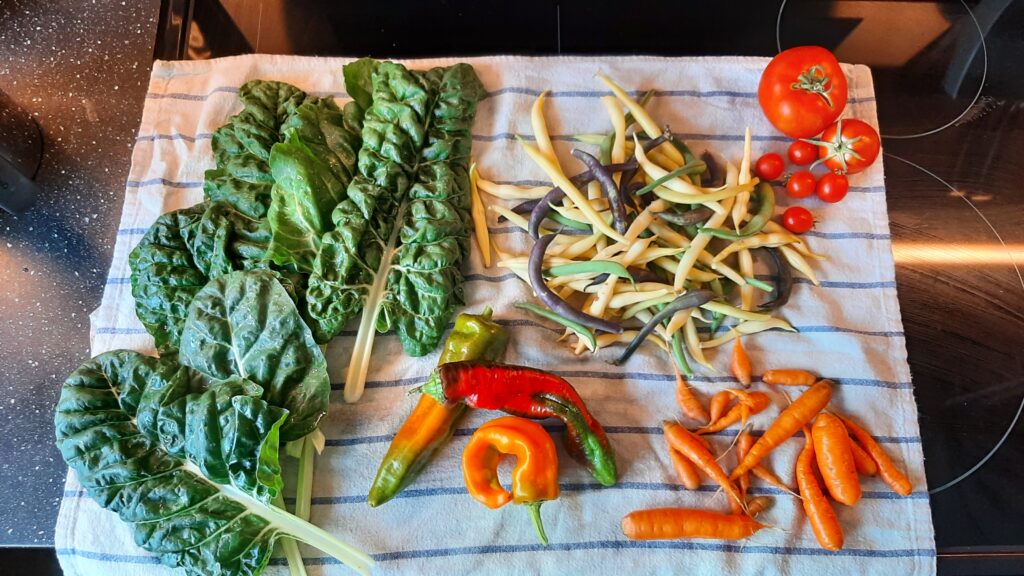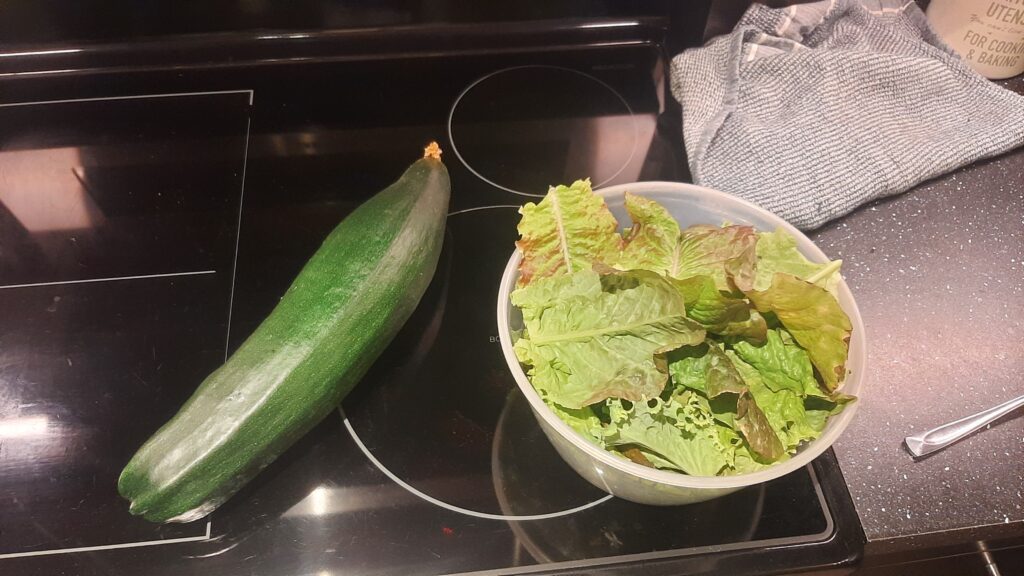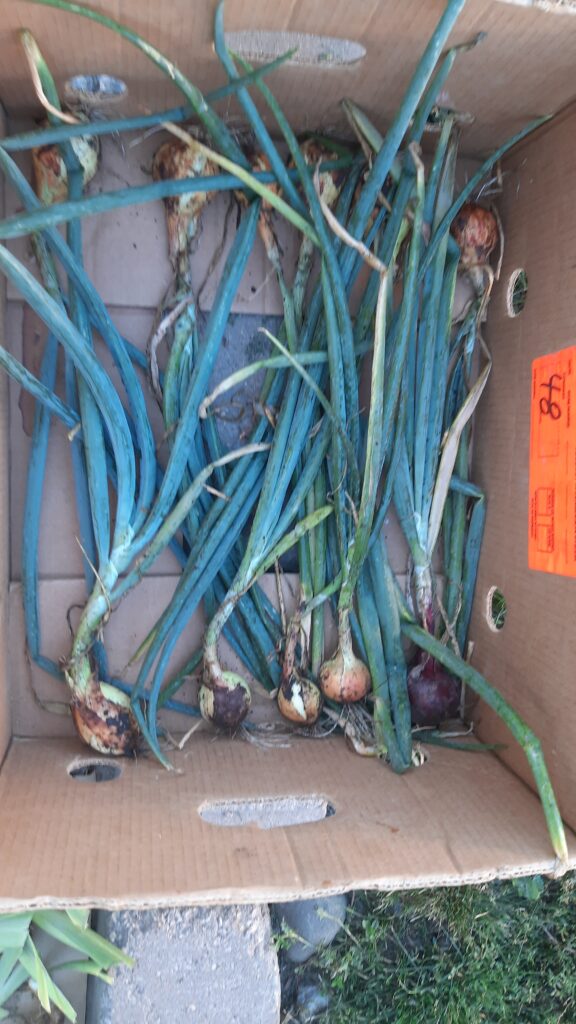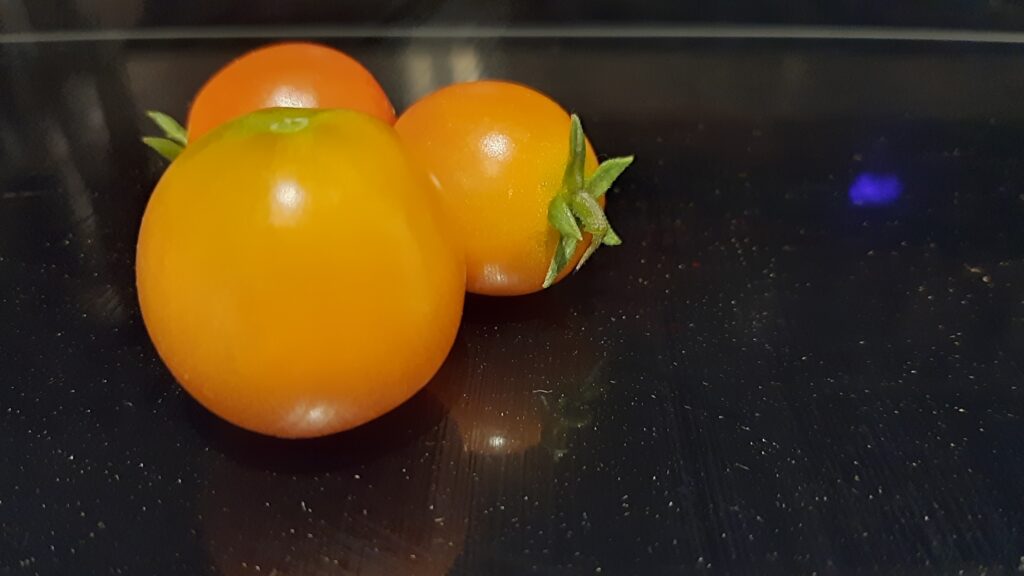 The biggest fails of 2022 were the Peas, Turnips, Radishes, Radicchio, Arugula, Glass Gem Corn, and Kale. Between pests and improper planting locations, thngs went ary. So, we'll try these again next year.
Grow Your Own Food – Year 2 – For Easy Prep Meals
2022 marks a new challenge. I have never had the issue of having to store my produce. Until we moved in here in 2020, my garden was never big enough to worry about it. But now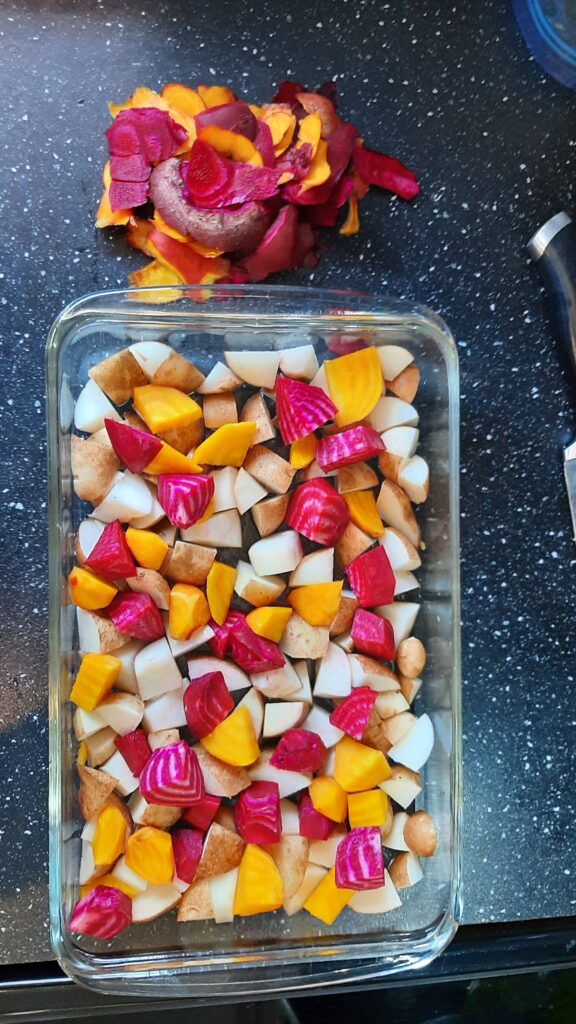 This year I've rediscovered soups. The big blender makes the difference there. I literally throw whatever is getting to ripe into a pot with some chicken broth. Then, into the blender and pow. Soup.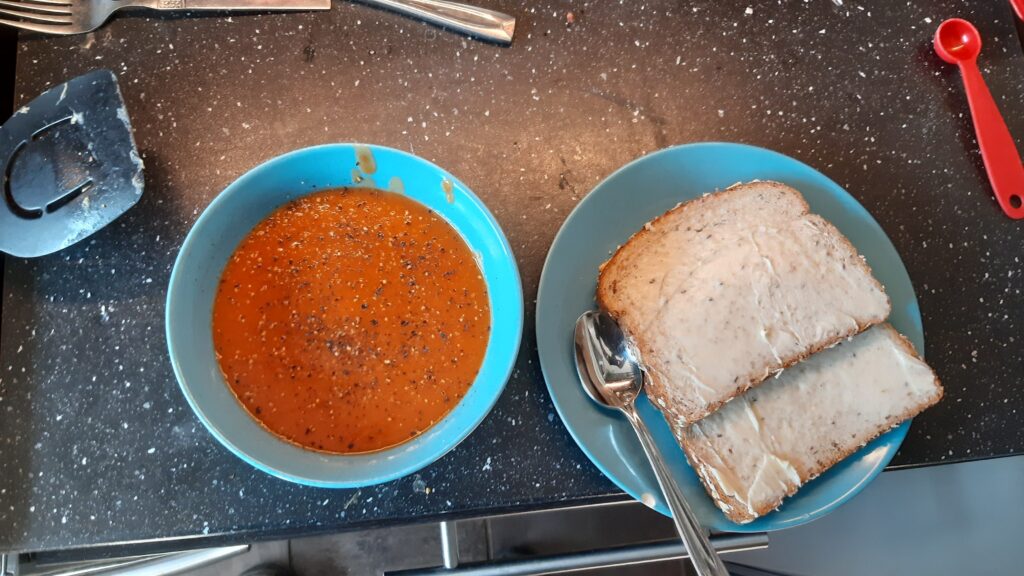 I also learned spaghetti sauce and ketchup are pretty much the same steps with different ingredients, and more (or less) time in a blender.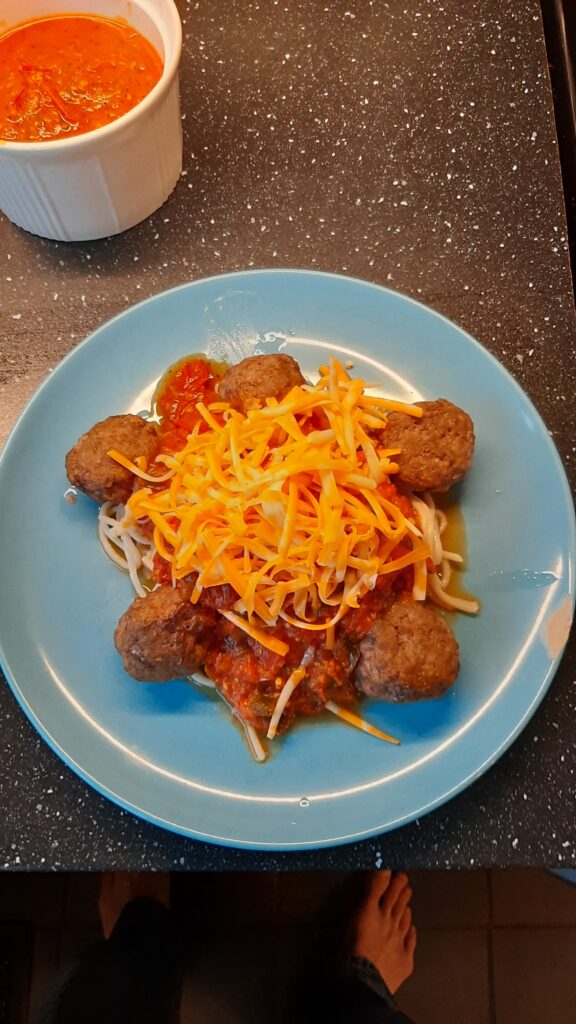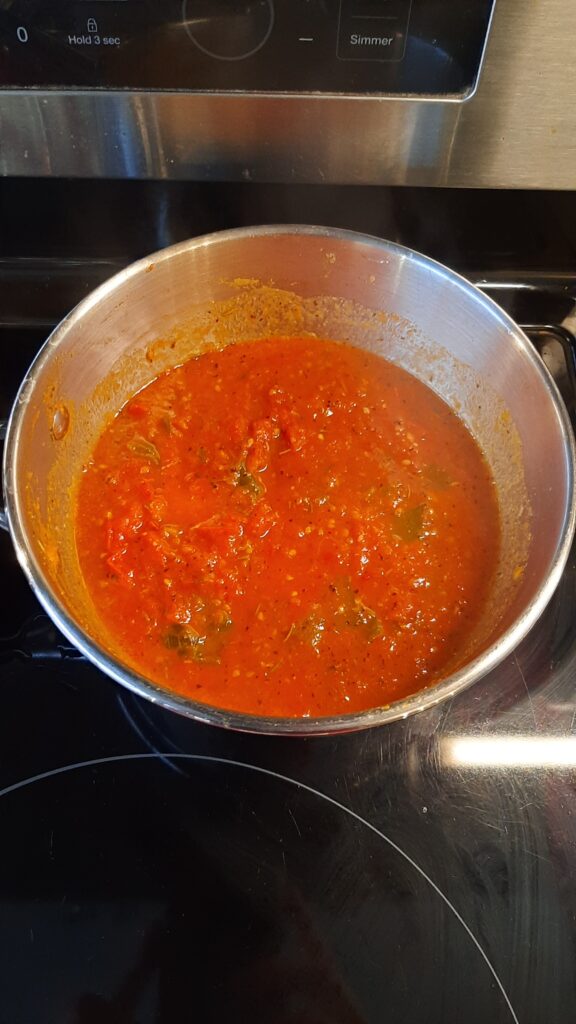 It's a great feeling watching the freezer fill up with food from your own soil. To think, those little seeds just filled my deep freeze. Amazing!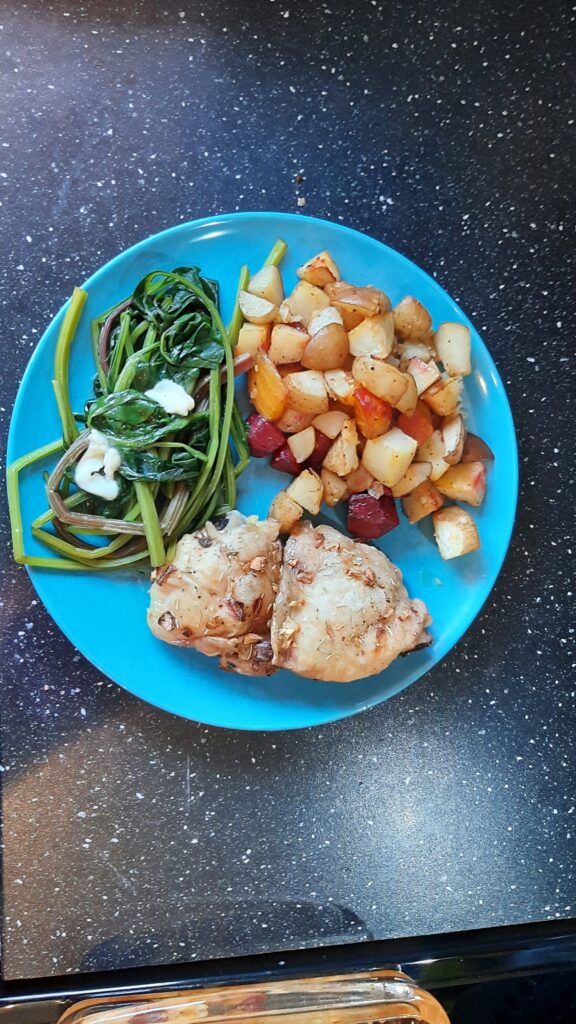 So what's up for 2023? A bunch of hardscaping first. The raised decks, the "brick" patio and walkways, and the greenhouse. The rainwater harvesting stuff too, of course. I've been collecting materials so we shall see. Should be fun!
Everything I do follows the guidelines set out by the Canadian Society for Organic Urban Land Care. Click the link to find out more.